Plantool's Product Pick: Barreto Hydraulic Tracked Trencher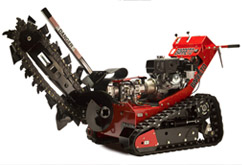 For our latest product pick, we have chosen the Barreto Hydraulic Tracked Trencher.
A mean looking machine, this Barreto trencher looks rough and ready. Its look isn't just for show though, it really means business and will be the answer to all of those trenching challenges you will have come across in the past.
Whether laying pipes or cables, or installing drainage, this will be the machine for you, giving you up to a 48 inch trench depth. Regardless of the ground you are working on, the Barreto will be able to handle it. Its rubberised tracks are designed for proper weight distribution, meaning it can spread its weight efficiently whether working on tough terrain or delicate turf.
You can also use it whilst being safe in the knowledge that it will be less invasive on the landscape around the trenches you are digging.
Offering superb traction on mud, sand and soft ground, Baretto bill this trencher as having 40% more ground coverage than the competition. And while offering this superb ground coverage, it is also surprisingly easy to manoeuvre, meaning you can use it in those tight spots and around all kinds of obstacles.
It's not just easy to manoeuvre either, it's easy to operate on the whole…even for the complete novice. While some trenchers require the operator to constantly have their fingers on the buttons to control and adjust consistent ground speed, this one offers near hands-free control. Like cruise control on a car, all you have to do is engage the safety clutch, set the depth and speed and then let it get on with trenching. Welcome news for what can otherwise be quite a fatiguing job.
Does the Barreto Hydraulic Tracked Trencher sound like the answer to your trenching needs?
Call us on 0800 334 5365 to enquire about hiring it or find out more about it here.
May 21, 2015
---