Tidy Your Home For Christmas – 5 Things To Do This Weekend
By now we can't escape it, Christmas is coming.
While there are three weekends left before the day is here, with presents to buy and wrap, and food to buy and prepare, you won't be left with much time for your home however. But if you're looking to tidy up your home in time for the festive period and before your family arrive, we're here to help.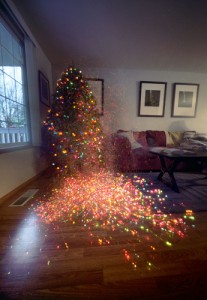 Here are 5 things you can do this weekend to freshen up your home in time for Christmas…
- Declutter
An absolute must. If you haven't already begun tidying up your home in time for Christmas, now is the time to. If you are going to be having guests to stay, the last thing you want is for them to be clambering over your clutter.
Look at what you can discard or temporarily remove from each of the rooms in your home as the chances are you will need the space for the Christmas tree, your decorations, airbeds for your guests, and if you have children, the masses of presents that they will receive.
- Refresh your paintwork
Grubby doorframes, bashed skirting boards and lacklustre dado rails can all make a house look tired. So why not utilise the sugar soap to get rid of the grime or even get out the gloss to revitalise your paintwork?
- Sand your wooden floors
If you have a wooden floors and can dedicate an entire day to freshening up your home this side of Christmas, why not hire one of our dustless floor sanders? With one of our floor sanders you can transform hardwood flooring by stripping away old paint and dirt and smoothing down dents and scratches.
- Clean your grout
Discoloured grout and sealant has the horrible effect of making the whole bathroom look dirty. Armed with the simple combination of baking soda, bleach and an old toothbrush you can have it gleaming again this weekend though.
Simply mix the baking soda and bleach together in a bowl until it forms a thick paste, apply the paste to the dirty grout and then wait 5-10 minutes. Once this time is up, scrub the paste with the toothbrush to work it deeper into the grout. Wait another 5-10 minutes, rinse it away and then leave it a few hours until it dries clean.
- Clear your garden paths
Paying attention to the outside of your house, the winter weather will show up moss, algae, lichens and all kinds of other stains which won't just make your paths and driveway unsightly, but can also make them  slippery and potentially dangerous. Tackle this problem with one of our pressure washers or a chemical solution and ensure your paved areas are clean, clear and safe to walk on.
December 5, 2014
---