Cleaning floors commercially to exacting standards
When it comes to cleaning floors commercially, you'll find it a much bigger task than cleaning your floors at home. Not only will you be required to clean larger areas but you will also need to make sure you carry out the job to the highest standards, paying extreme attention to detail. This is where commercial floor cleaning equipment comes in use. Here we'll talk you through some of the equipment you will need to clean floors commercially to exacting standards.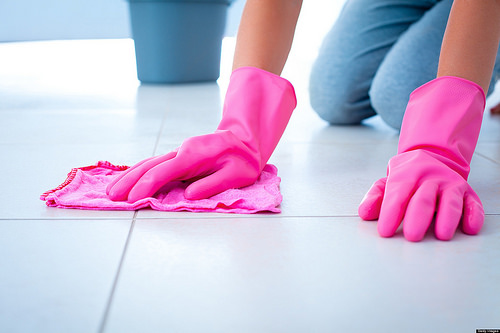 Swap your rags for specially designed commercial floor cleaning appliances to meet your clients' exacting standards.
Commercial vacuum cleaners
If you have dust filled carpets and dirty floors to combat, you're going to need a commercial vacuum cleaner. They're much more powerful than their domestic counterparts and are great at penetrating carpet fibres to make sure all of the dirt and grime is removed. What's more, many commercial vacuum cleaners now operate silently, allowing you to carry out your job without causing disturbance to staff in the building. Some commercial vacuum cleaners also have a high level of filtration, making them suitable for dealing with hazardous dust in industrial environments.
Here at Plantool, we have commercial vacuum cleaners suitable for both carpet and flooring. We also have vacuum cleaners that double up as carpet cleaners, along with dust extraction units, suitable for industrial use.
Outdoor Cleaning
Patios, drives and outdoor areas can look battered and generally unattractive after weathering or building work. Pressure washers such as our Roto Jet Patio Cleaner is a brilliant attachment for cleaning patios, drives and other flat surfaces quickly and effectively without blasting sand and dirt all over the place. This pressure washer eliminates striping, providing a uniform cleaned surface and can be used with hot or cold water.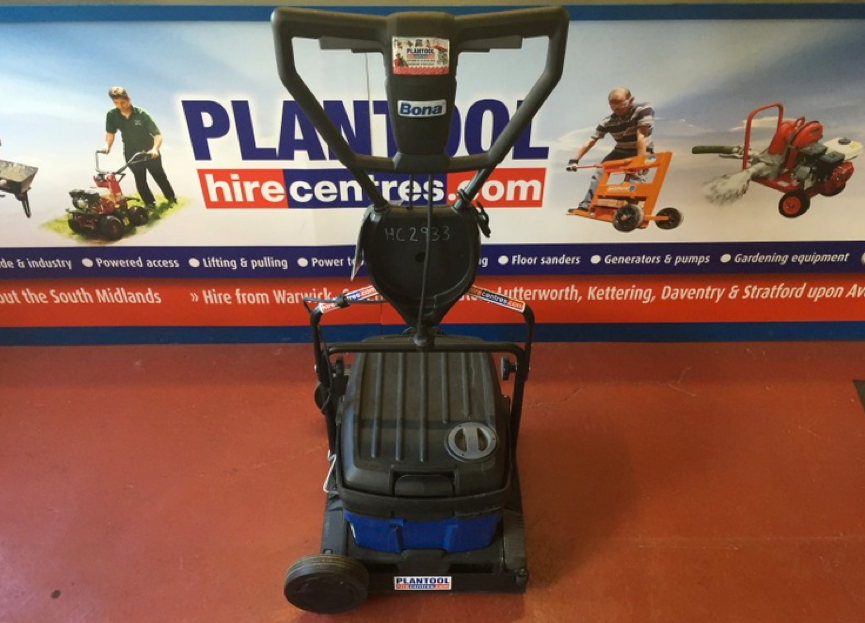 Floor scrubber driers will leave commercial floors clean, dry and safe. Plantool's Bona Floor Scrubber is available to hire now
Floor scrubber driers
Whilst sweepers are great for removing surface dirt from a hard wood floor, they're not so great for tackling stains. In order to leave commercial floors looking spotless, you will need to use a floor scrubber dryer.
Like floor sweepers, floor scrubber driers use rotating brushes to clean the floor; however they also use water and detergent to give it a good old scrub. Once you have covered the floor, you can then go back over it, using the dryer setting to vacuum up the resulting residue. This will leave the floor clean, dry and safe for people to walk on.
Again, floor scrubber driers come in various different sizes. Some are pedestrian operated, whereas others are ride-on.
We have a selection of pedestrian operated floor scrubber driers for you to hire. They are available in various different sizes and provide a powerful cleaning solution for both hardwood and concrete floors. Plantool also has a floor scrubber polisher available for hire that will give flooring a desirable shiny finish.
Tips for cleaning floors commercially
Commercial floors will need to be cleaned regularly in order to prevent a build up dust, dirt and grime. We highly recommend agreeing on a cleaning schedule with your client or employer. The more frequently you clean the floors, the quicker and easier it will be!
Hiring commercial floor cleaning equipment
Plantool is your one stop shop for commercial floor cleaning equipment hire. Take a look at our fantastic range of appliances and book online. If you have any questions, feel free to contact our advisors on 0800 334 5365.
Image source: flickr.com
---