Revamping Your Kitchen - A Fresh Look Without Ripping Out Cabinets!
You'd be amazed what new appliances, lights and a bit of paint can do for that tired old kitchen!
Tarting Up Your Old Appliances
Now is the perfect time to get a new refrigerator, oven, hob or other appliance, as you'll be making some changes anyway. The more expensive stainless steel models are still quite popular, but that means that quite a few other finishes are available, often at reduced rates.
On the other hand, if you prefer to keep your existing major appliances, you can still give them a new look. Most appliances can be refinished for a few hundred pounds or less, giving you the new kitchen look for a lot less. Look online to find a nearby refinishing company, and don't be afraid to ask for a multiple appliance discount! If that is still outside of your budget, ask your local body shop if they can accommodate your fridge, oven and dishwasher tops – many can.
Lastly, you can buy appliance paint at many of the larger hardware stores, and do it yourself – the point is all of your major appliances will match both each other and the new look of your kitchen. To take it one step further, contact the manufacturer or your local repairman, and see if new knobs and/or handles for your oven, etc. are available. Between that and the paint, you'll think you have a new unit.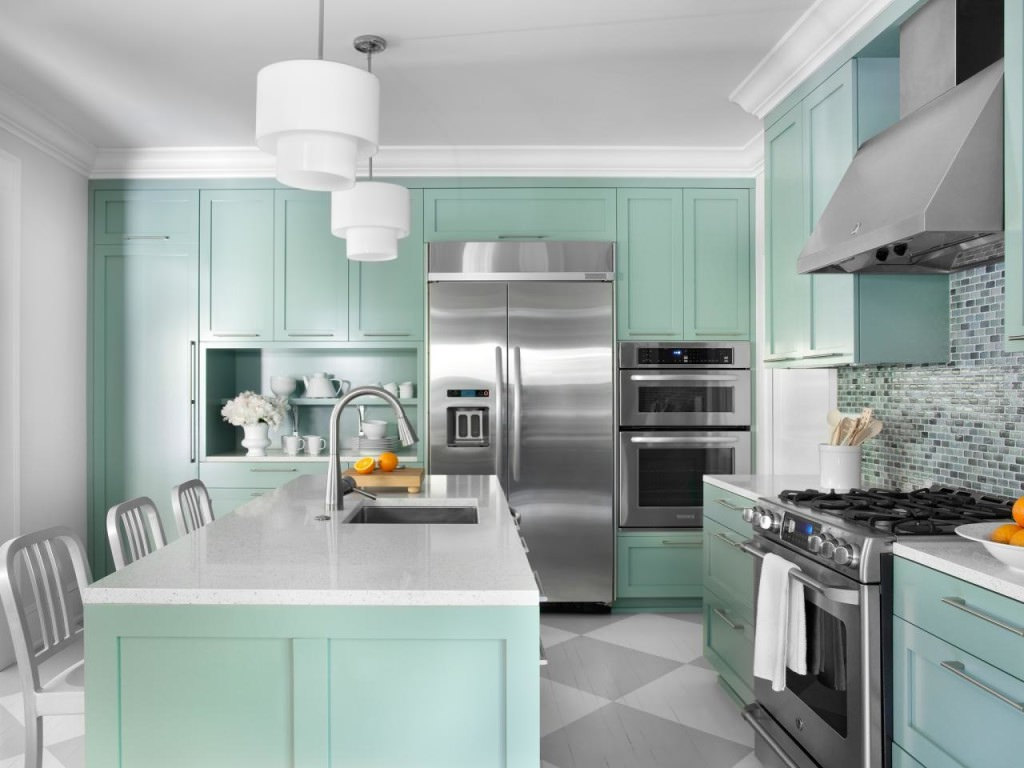 Renewing your cabinets without replacing them
Next, let's take a look at those cabinets. You don't have to replace them for a new look! Rather than replacing the doors or the entire units, consider whether you could actually reface them yourself. Most home improvement stores will sell you everything you need.
If you aren't quite up to re-facing your cabinets, it is definitely time to paint! First, take off the doors and give them the scrubbing of their life. You'd be amazed how much grease there is even in a very clean kitchen, and if you want the painting to go well, you'll have to make sure they are absolutely clean first.
Now, it is time to sand. Not only will this remove any lingering grime, it will remove the surface coat of the door's original finish. Whilst this surface is designed to repel dirt and moisture, it will also repel paint so it will really have to go. Make sure you use the right tools to get into every nook and cranny. Even a small amount of paint build-up in the corners of the moulding or trim can make it look like an absolute bodge-job, and that is not what we're going for.
Now, prime the cabinet doors with a good, thin primer. This is important as it will help you get an even coat with the surface paint. Again, don't be afraid to use a sprayer for this – it gives you a substantially thinner, more even coat and is much, much easier.
Now for the paint. Even if you are on a budget, don't just buy the cheapest paint available. Your cabinet doors get more wear than you think, and have to deal with constantly shifting heat and humidity conditions as well. Saving a few quid here will ensure that they look terrible again in six months or a year. Buy the good stuff, and make sure it matches your newly finished appliances.
Another option to reinvigorate the old kitchen is to fit new hardware. Whether or not you choose to resurface the drawers, cabinets and doors, shiny new handles will make the entire kitchen look smarter. Any hardware or DIY store will have a selection of pulls, knobs, handles and hinges in a variety of different styles and materials. First, take one of your handles off the door, and bring it down to the DIY store to make sure what they have is compatible.
Image credits: Ade Roni
---