Submersible pumps: How and when to use them
Submersible pumps are a powerful, flexible form of tool that can be used to drain both liquids (including sludge, sewage and water), as well as certain solids from an area. There are, however, a range of different formats, and choosing correctly for the right situation is not only important for efficiency, but for safety. Here's a complete guide to helping you choose how and when to use a Submersible pump, and which form of pump you should be using.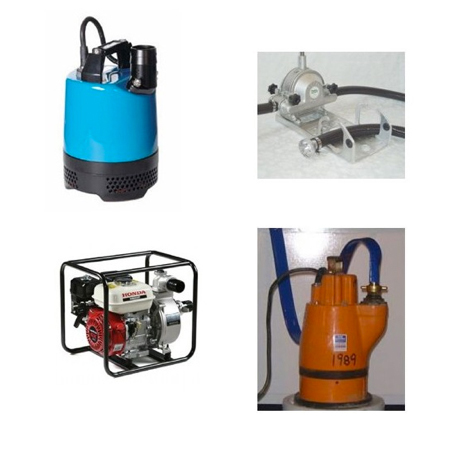 Submersible pump types
Guide Rail Mounted
This form of pump is used where permanent pumping is required; it is set up upon a guide rail mounting.
Free standing/portable units
Whilst there are permanent Submersible pumps for particular uses, for DIY and building purposes free standing/portable units are ideal. They are free from permanent guide rails and can be installed for temporary use.
Flexible-drive pump
These pumps are especially popular in Australia at the moment. This submersible flexible-drive Pump is powered by a flexible shaft drive unit. There's no better way to drain footings before the concrete goes in. Flexible drive pumps are perfect for a variety of jobs in agricultural and construction applications and can be used for footings, manholes, tanks, drainage, pool excavations and waste transfer and more.
Puddle Pumps
Puddle pumps are great for getting rid of those very last bits of water residue and can pump down to as low as just 1mm depth. Great for drainage and flood damage.
Benefits of using diesel or petrol driven Submersible pumps
Petrol or diesel submersible pumps can provide for a collection of advantages, including:
No need for electricity;
No motor, which means that this form of pump is incredibly low maintenance;
A format that provides TFE 2" or 3" Output, accepting a standard hose;
No need for priming, no sparks as would be encountered with electricity and no smell;
Superior reliability, with this pump ideal for being left unattended for long periods of time.
When to use a Submersible pump
Submersible pumps are incredibly flexible in relation to the projects that they may be used within, covering all manner of slurry, drainage and sewerage pumping needs. As a hire company, the most common of projects that our clients use Submersible pumps for the draining of foundations, creating the optimal environment and an area prepped for the pouring of concrete.
How to use a Submersible pump
Choose the outfall area
Start by choosing where you will pump the liquid to, this could be a drain pipe, sewage system or a grassy verge.
Connect the hose up to the pump
Follow this by plugging in the extension cord, which should then be connected to your power source.
Begin by pumping from the lowest point of the water-filled area
You should also double check that your filter screen is in place to ensure that any debris is caught, rather than clogging up the machine.
Run the pump into the deepest part of the water
You should then turn the system on and wait for the pump to begin draining the area, be sure to remove any debris that is collected by the screen as it pumps. As the water level falls, be sure to reposition the hose to the deepest area of the water.
Our pro tips
To help you get the most out of your Submersible pump hire here are our top tips:
Pour a cup of water into the pump before you begin pumping. This will help to prime the pump and help the machine to fire up.
Never allow your pump to run dry, keeping an eye on the decreasing water levels. As you begin to reach the end of the pumping you should turn the pump off and mop up any remaining liquids instead (this can help avoid any potential damage).
---